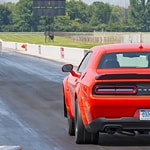 When you think of the Dodge Challenger, you probably think of a muscle car that is second to only the Dodge Charger in popularity. And yes, while the Dodge Challenger definitely has a powerful performance and a menacing amount of speed, one feature about the Challenger that many people don't fully grasp is that it can be economical as well.
But while the Dodge Challenger will boast an available 5.7-liter V8 HEMI engine with 375 horsepower, did you know that this engine type will utilize a feature called Fuel Saver technology? This means that it will automatically turn off four of the eight cylinders when it's not necessary to use them in order to save gas.
Yet another great feature of these Dodge Challengers would be that you simply won't be spending that much time at the gas station. That's because your Dodge Challenger will be able to get up to a range of 550 miles per tank.
Finally, there is the benefit of the 3.6-liter Pentastar V-6 engine, which enables your Challenger to get up to 30 miles-per-gallon on the highway. See why we are excited about the fuel economy of these Dodge Challengers? Call us today at Susanville Chrysler Dodge Jeep RAM and test-drive one of these Dodge Challengers for yourself!