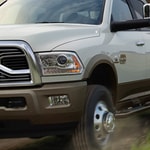 The Ram 3500 is one of the most powerful trucks on the road. Now, the Ram 3500 is also making a name for itself thanks to its high level of interior features. These features are designed to make every drive more enjoyable. Here is a look at the Ram 3500's best interior features.
The interior of the Ram 3500 offers some of the most comfortable seats of any vehicle. That includes the second row where you can recline the rear seats up to 15 degrees. These seats allow your back seat passengers to be more comfortable than ever.
When it comes to storage space, the Ram 3500 gives you more than you would expect. The center console gives you enough space to accommodate a 15-inch laptop. When you need more cargo space in the cabin you can get up to 8 inches of cargo space behind the second row.