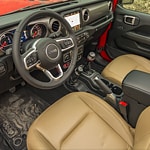 From its rugged good-looks to its exceptional engine strength, the Jeep Wrangler can't be phased when it comes to raw capability. Consumers will have a good amount of horsepower to handle the toughest of environments, and this compact SUV sits up to 10 inches above the ground. The Sahara, Willys, Black/Tan, Sport, and Rubicon are some of the available trims.
The Jeep Wrangler has a phenomenal interior package that will handle your every need. This ergonomic interior yields enough space to seat at least five individuals. There's also a good amount of legroom, especially for the rear seats. The Jeep Wrangler offers USB Ports to charge or connect external devices. Android Auto provides great smartphone integration, and iPhone users can take full advantage of Apple CarPlay technology. There's also a good blend of premium upholsteries.
Hit us up as soon as possible to get a free test drive of the new Jeep Wrangler.