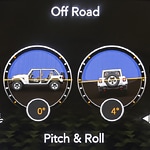 Interior features are designed to provide you with comfort and support while you are out driving. Good entertainment is what makes trips fun. Regardless of whether you like to listen to the news or good music, you will be able to enjoy them while you ride around Susanville, CA in the Jeep Wrangler. This feature comes with an all-weather subwoofer, overhead sound bar and 552-watt amplifier.
It will also be easier for you to keep your vehicle clean. This vehicle comes with removable carpet and one-way floor valves. You won't have to worry about messing up your vehicle with the outdoor elements.
Additionally, you won't have to worry about driving in a car that is too cold during the winter months. You can use the heated steering wheel, which will keep your hand warms. You can also use the heated seats, which will keep your entire body warm.